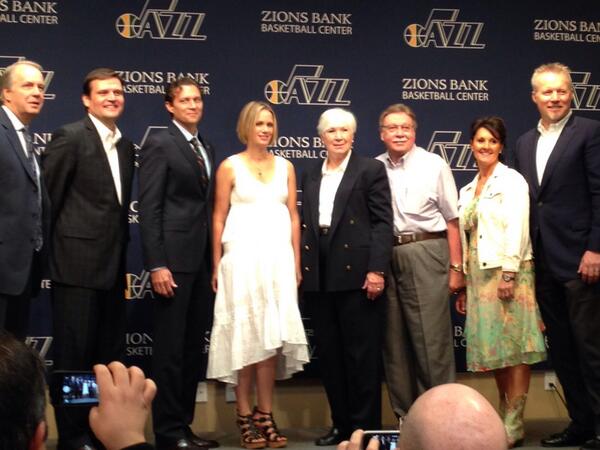 When Dennis Lindsey was hired in San Antonio in 2007, he was concerned about Quin Snyder as coach of the NBA D-League's Austin Toros.
"(Spurs general manager) RC (Buford) asked what I thought relative to Quin and the position, and I think I'm pretty good at sizing up situations relative to coaches and teams. I said, 'RC, I'm skeptical.'"
He's not skeptical anymore. Today, Lindsey introduced Snyder as the first head coach outside of the organization to be hired by the Utah Jazz in 35 years. Obviously, Lindsey has been impressed since that initial reaction seven years ago, saying now, "I spoke out of ignorance relative to Quin."
So what was it that impressed Lindsey so much to reverse his initial opinion? Let's break down the key factors.
Previous HC experience in minor leagues
Lindsey said that Quin's minor league experience with San Antonio was a major factor in choosing Quin to be the coach of the Utah Jazz. "I think if you look at D-League and minor league experience from 10,000 feet, there's an unusual story to tell: Phil Jackson, George Karl, Flip Saunders, and more recently, Dave Joerger. There are some coaching analytics that say if you had very successful minor league coaching experience, it can set you up on a strong platform if you're able to get to the NBA as a head coach. For many reasons."
In the post-press conference scrum, Lindsey explained the coaching "database" that the team had set up, as they looked for trends in coaches to try to figure out what led to good coaches later on. The numbers on Quin's experience in the D-League were one indication that the team had found the right candidate for the job. Another indication: the success of Snyder's system.
Snyder's coaching philosophy
Snyder briefly explained his coaching philosophy in the press conference and media availability. In short, he wants to run a motion offense, with lots of reads, spacing, and unselfishness with the ball. The motion offense "is a little bit random", which means it's "harder to guard." He also wants his offense to allow the players to run up and down the floor. In his words, "Playing with pace really just gets easy baskets and lets players attack." Quin also indicated that while his system and philosophy are set, there may be tweaks based on his final roster: "You do have to adapt within that construct. You may post more, there may be more pick and roll with certain players. I think it varies team-to-team and it can also vary within one team. You know, if you play a stretch 4, you can play a little different than if you don't play a stretch 4 on the floor."
Running this system naturally requires a balance of running set plays or running out of flow (i.e., no set play, just operating in general set offensive principles). I asked Snyder about how he'll acquire that balance: "I think a lot of it has to do with how you begin the possession: if it's a missed basket you have a chance to run more. Coming out of a timeout, or a dead ball, the emphasis really has to go to execution, because the defense is set."
On the defensive side of the ball, Snyder insisted "We'd like to have a defensive identity. That's an area where we'd like to take a stand."
Snyder emphasized the importance of trusting teammates and working together as a unit, something the Jazz failed to do defensively last season. How will that improve? "I think if you have attention to detail in all of these situations it makes you better. And the last thing would be accountability. Us holding each other accountable, both players and coaches."
Player development skill
Part of that improvement will have to come through player development. By most measures, the Jazz were one of the 5 youngest teams last season, but their youth all have the physical tools to improve upon their games. Because of this, Lindsey said "The development issue was really central to this decision." DeMarre Carroll, the former Jazzman now on the Atlanta Hawks, credited Snyder with much of his development this season. He told the Atlanta Journal-Constution last year,  "This is the first year a coach really worked with me on my footwork, my shot, spent time with me. That's a credit to Coach Quin. That shows me that he cares about me as a person, cares about my career."
Dennis Lindsey and Atlanta head coach Mike Budenholzer agreed with Carroll's assessment of Snyder's developmental capacities. "[Budenholzer] and I feel like there's a best development coach out there, someone who we both have worked with in the past, we'll leave him unnamed[ref]Theory: Chip Engelland, San Antonio assistant coach.[/ref], but he said I think Quin is hitting this person's stage and level of expertise towards that realm of basketball."
Analytical openness
The Jazz are moving towards embracing analytics throughout the organization. Previous coaching staffs have been occasionally hesitant to embrace analytical influence from the team's front office. While analytics is not currently a strength of Snyder's (as Snyder put it, "I don't have the command for it that I would like to have.")[ref]Surprising for an MBA from Duke![/ref], he seems open to working with the team on developing that part of his skillset: "It's something that I look forward to having the chance to learn from from the people here in management and our scouting staff. There's an advantage to be gained. And any way you can gain a competitive advantage, you want to try to do it."
Snyder explained that he'll actively seek out analytical answers to specific coaching questions from the front office, and seemed eager to have the lessons of statistics boiled down to something he could adopt. Those around the league rave about Snyder's intelligence, so there's little doubt that Snyder will be able to adopt those takeaways into his coaching.
In short, the Jazz feel that Snyder's combination of coaching system and philosophy, along with his developmental skill, made him the best choice to be the next coach of the team. It's still 5 long months before we'll be able to see the impact of Snyder on the Jazz's on-court performance.