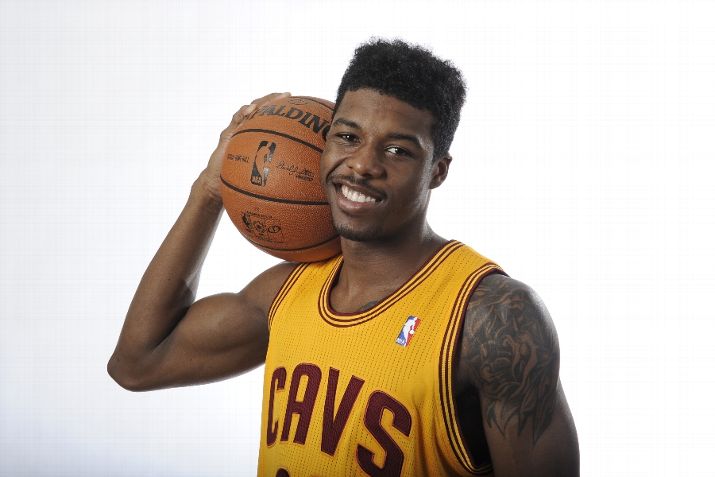 The Utah Jazz have acquired Carrick Felix, a 2nd round pick, and $1 million in return for the non-guaranteed contracts of John Lucas III, Malcolm Thomas and Erik Murphy. Adrian Wojnarowski of Yahoo Sports was the first to report the trade.
From the Jazz's perspective, there's little-to-no cost in this trade. The best asset traded away here is Malcolm Thomas, who has impressed enough at the D-League [ref]Last season, Thomas put up 18.3 points and 10.4 rebounds per game in just under 34 minutes in his D-League time.[/ref] and Summer League levels to show that he deserves NBA minutes at this point in his career. That being said, those minutes were going to be hard to find on the Jazz's PF-heavy roster: Favors, Kanter, Novak, Booker, and Evans can all play the position, and all would presumably be ahead of Thomas on the preliminary depth chart. Thomas can help an NBA team, and could even help a contender[ref]I suspect that he's better than Ryan Hollins or what remains of Udonis Haslem.[/ref], but unfortunately, he doesn't look like a great fit in Cleveland, given this:
Malcolm Thomas is pissed for being dealt to the Cavaliers. He played for David Blatt in Israel. Bad fit, got cut.

— David Pick (@IAmDPick) July 22, 2014
Hopefully Thomas does find his way with an NBA team.
John Lucas III is the biggest name in the trade, after he played 591 minutes for the Jazz last season. Lucas had actually played far more effectively (and in more minutes) in his time with Toronto and Chicago in his previous two seasons, with a PER of 16.3 and 12.8 respectively, but disappointed with Utah to the tune of a 5.2 PER. Lucas was a beloved presence in the locker room, but clearly couldn't be counted on to contribute during his minutes played. In fact, his early season performance was so disappointing that the team first re-signed an old Jamaal Tinsley to offset many of his minutes, then when that didn't work out, found Diante Garrett in the season's first D-League call-up. Lucas's contract is unguaranteed, and at $1.6 million, it would be surprising to see him not cut by one team or another before January. That being said, it's probably somewhat worthwhile for some team to find out whether his true current talent level is closer to his 2011-13 showing or his 2013-14 performance.
Erik Murphy was supposed to be a prototypical stretch 4, but both his shot release and his defensive movement have been slow enough at the NBA level to really disqualify him from NBA minutes. He's disappointed once again at this year's Las Vegas Summer League, and has $100,000 coming to him coming to him if he isn't cut by August 1st. In my opinion, the only way he makes it past that deadline is if Cleveland is on the verge of a trade that would necessitate his contract.
The Jazz would have likely released all three of these guys anyway, due to either high competition (Thomas) or simply to save money and roster spots (Murphy, Lucas). That doesn't mean they aren't assets, but Utah probably used those assets to the best of their ability by sending them to a team that's desperately seeking those non-guaranteed deals to use in a superstar-level trade.
It's instructive that Ian Clark wasn't included: while the Cavaliers could have used his contract, it appears that the Jazz would like to keep it, despite that his contract will become fully guaranteed by August 1st. While this might make him less valuable to the Cavs, Clark is also attending the Jazz's state-of-Utah Junior Jazz tour after that date (August 11-14). It would seem cruel to cut Clark, then expect him to tour rural Utah for a week, though DeMarre Carroll traveled Utah last summer without a contract. The Jazz are thin on the wings, and Clark currently stands as only 4th SG/SF[ref]Or 5th, depending on how you feel about Dante Exum.[/ref] on the roster.
Carrick Felix would be the 5th wing, and there are significant indications that the Jazz like him. Perhaps the biggest public sign is Jazz radio play-by-play man David Locke's article about Felix and the trade:
Felix is going to [be] a part of the Utah Jazz…. The Jazz scouts have had an eye on Felix and like his defensive mindset, his ability to rebound and believe he can shoot the three.  He is not an offensive playmaker with the ball in his hands.  This is an opportunity for the Jazz to add a player they like and believe has a chance to develop into a rotational piece.
With his role with the team, Locke often has insider-type knowledge on the thinking of the Jazz; on this issue, this is even further evidenced by that Locke's 836-word article was posted just 12 minutes after Wojnarowski broke the news. Expect Carrick to stay on the team, for all of the reasons Locke mentioned.
At the NBA level, Carrick Felix is probably most likely to make it as a defensive specialist who's capable of not embarrassing himself offensively. Personally, I think of him as most similar to Quinton Ross[ref]Who isn't dead![/ref], another 6'6" guard who could defend extremely well and rebound really well, but was extremely poor with the ball in his hands. Ross couldn't ever do enough offensively to stay on the floor or remain in the league, so it will be up to Felix to show more on that side of the ball than Ross did.
The 2015 2nd round pick the Jazz receive is likely Cleveland's own. This is just a guess, but an educated one, as Cleveland only has rights to one other 2015 2nd round pick, Boston's, and it is top-55 protected. While they could trade that pick instead, it would be meaningless to do so. Given that Cleveland recently signed a really good player, and will likely use these assets to acquire another really good one, the 2nd round pick isn't likely to be excellent. The $1 million the Jazz receive is nice enough, and gives the Jazz free reign to repeat this process by taking a glance at another cheap prospect.[ref]Edit: Eric Pincus has since reported the total to be $1.3 million. My analysis stands.[/ref]
Overall, the Jazz spent roughly $2.2 million on Lucas, Thomas, and Murphy's contracts over the last season, and got a goodish prospect and a bad 2nd round pick in return. Given the rapidly approaching decision date on two of the non-guaranteed prospects, it was a small chance for the Jazz to get something long-term for an immediately expiring asset. It's not very impressive value, but it does continue the Jazz's plan of using their cap space and money now to receive assets for the future.