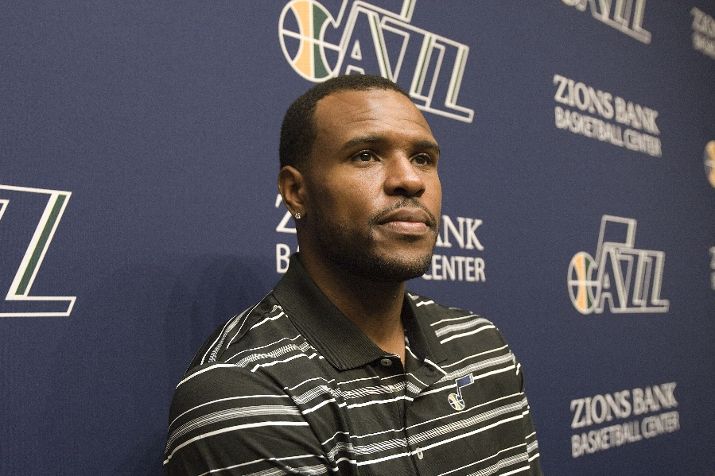 When looking at their team's performances last season, one thing Jazz management noticed was a lack of toughness. This came out especially on the defensive end: despite a seemingly capable roster, with a lot of length at nearly all positions, the Jazz finished last in the league on that end of the floor. Especially notable was that the Jazz finished 2nd-worst in the league in forcing turnovers. Not only was the defense bad, but it seemed apathetic.
Trevor Booker, though, is the opposite of apathetic. He's found his niche by being one of the highest-energy players in the NBA: he's the guy who will always go after rebounds, will scavenge for loose balls, and fight for every inch against taller big men. Booker knows his role too; when asked what he'll bring to the team, Booker listed, "Toughness. A lot of energy. Leadership. Experience."
Booker sells himself short, though, by mentioning just those traits. He's also sneakily developed a jump shot, one that allowed him to shoot 45% from 10-16 feet and 40% from 16-23. Those stats don't sound impressive, but his 10-16 feet percentage would have been the best on the Jazz last season, and he would have been 3rd from 16-23 feet. The package makes him a nearly exact compliment to Derrick Favors down low, who has all of the length and athleticism, but not much of a jump-shot and sometimes looks sleepy on defense.[ref]This is also true of Kanter, by the way, though Kanter looks more sleepy on defense and has a better jumper.[/ref]
Another one of Booker's positives: he's also a good screener. While publicly available stats don't really tell this story, it's clear that Booker's screens help open opportunities for the rest of the offense: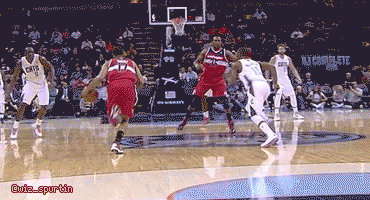 Indeed, Trevor Booker's screen is literally featured in the encyclopedia entry for "pick and roll". His scouting reports and coaches have all mentioned his screening effectiveness as part of his game. Good screening was another facet that the Jazz lacked last season: too often, screens were simply perfunctory displays rather than effective opportunity creators. Booker, as part of an offense, should add some value simply by making new coach Quin Snyder's plays more effective.
The above positives show why Booker is a good fit for the Jazz on the floor, but it was important that Booker be a good fit for the future plan of the franchise as well. The Jazz largely achieved this by signing Booker to a team-friendly contract, which features the second year as only 250K guaranteed. While most outlets reported the 2 years, $10 million figure, it boils down to a 1 year, $5.25 million dollar commitment from the Jazz. This maintains Utah's flexibility for next offseason, not trapping unnecessary cap space as they either seek to resign their own free agents (potentially Alec Burks and Enes Kanter), or sign new ones as they push towards contending.
The second-year unguaranteed also makes Booker's contract very favorable for a potential trade. Just weeks ago, we saw the Jazz take advantage of roughly $3 million dollars in unguaranteed contracts to extract 2 assets from the Cleveland Cavaliers: Carrick Felix and a 2nd round pick. Nearly $5 million dollars could net an even bigger haul, as teams seek to jumble their rosters for next year's free agent class next summer. Even better, the $5 million amount of year 2 makes it the perfect size to combine with other players to potentially land a star.
Let's pretend that Dante Exum sets the world on fire next year, with star play from the PG position. If the Jazz chose to, they could package Trey Burke (and his $2.65 million contract) and Trevor Booker's 5 million for a contract worth up to $11.475 million. Add in Carrick Felix's unguaranteed contract, and the Jazz could receive salary back up to $12.9 million. It's not quite enough for a max deal, but such a package[ref]Plus probably a pick or two.[/ref] would allow them to potentially receive a low-level star from a team that wanted to rebuild. Danilo Gallinari, Demar DeRozan, Larry Sanders, or Marcin Gortat are examples of players that the Jazz might see fit to acquire in this way. It's a rare contract that actually allows Utah more long-term options than if it had gone unsigned.
It all adds up to a package that made too much sense for the Jazz to pass on. With Booker being able to contribute to the Jazz's ideal culture in the short term, and actually adding flexibility in the long term, the signing of Booker was a no-brainer.