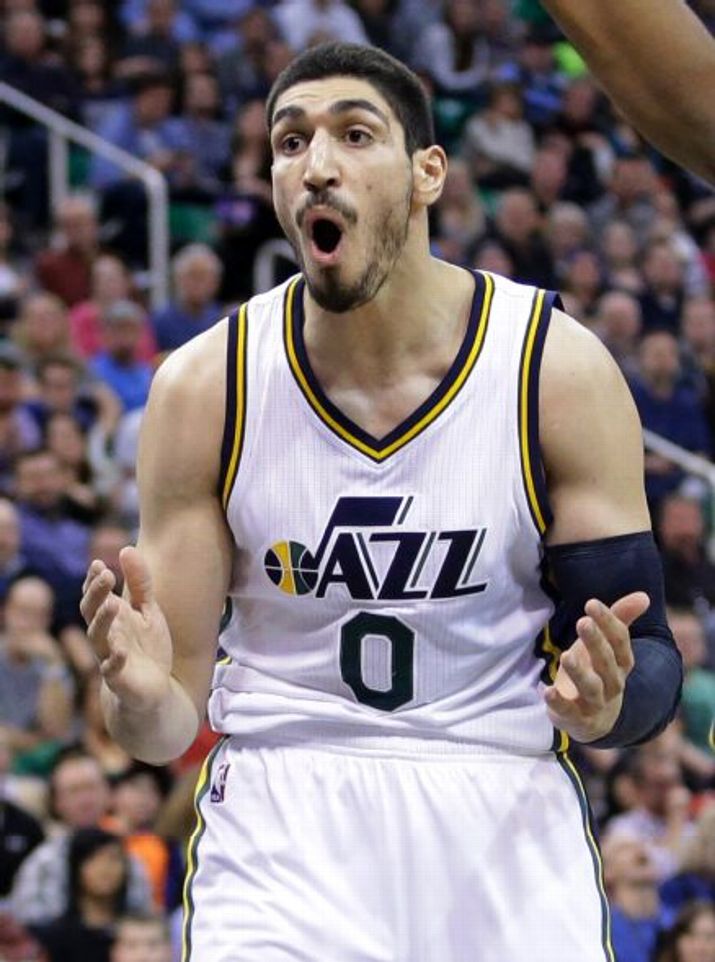 After weeks of speculation, the deal really occurred today: the Utah Jazz officially traded Enes Kanter and Steve Novak to the Oklahoma City Thunder in exchange for a protected future 1st round pick from OKC[ref]More details on this later in the article.[/ref], a 2017 2nd round pick from the Detroit Pistons, Kendrick Perkins, the rights to FC Barcelona C Tibor Pleiss, and the rights to Tulsa 66ers F/C Grant Jerrett. Adrian Wojnarowski of Yahoo was the first to report the trade.
How the trade occurred
Just 8 days ago, Enes Kanter made his trade wishes known publicly for the first time after the Jazz's loss to the Dallas Mavericks.[ref]I covered what led up to that situation in this article, so this piece will focus largely on the week leading up to the deadline and the breakdown of the trade itself.[/ref] While Utah was very much internally looking at the possibility of trading Kanter before his comments, going public pushed Utah into acting aggressively to find a deal. The Jazz front office insisted that Enes' demands did not change what they were willing to accept in a trade, but the feeling was that his comments made a long-lasting positive relationship less likely.
As the Jazz shopped Kanter, they looked to teams who had expressed previous interest in Kanter, who had a clear need for a big man, or had assets the Jazz really wanted to acquire. Oklahoma City was on the list largely due to the first factor alone. Oklahoma City had expressed interest earlier in the year, but while Kanter's a good young big man, the Thunder already have a pretty solid rotation of Serge Ibaka, Stephen Adams, Kendrick Perkins, Nick Collison, Mitch McGary, and Perry Jones. All 6 of those bigs but Collison and Perkins are young.
Furthermore, the Thunder have a hodgepodge of assets that don't really fit the Jazz's situation, as we discovered in the trade itself. The Jazz aren't fans of Jeremy Lamb's game or potential, especially defensively. Reggie Jackson was a malcontent expiring without a jump shot. If the Jazz were going to acquire him, then they'd almost certainly want to match any offers he received in free agency, and they weren't willing to commit long term to a core of Jackson/Exum/Hayward/Favors/Gobert, of whom only one can shoot.
Undeterred by this asset mismatch, the Jazz put together an offer to Oklahoma City early in the week which was discussed back and forth until the very final moments of the trade deadline, including as OKC continued to explore a deal with Brooklyn for Brook Lopez. As Quin Snyder explained, "There wasn't any kind of watershed moment." It was clear that this was a possibility all along.
That doesn't mean there weren't other offers. The Jazz had the opportunity to join the PG trade wheel as well today as part of a Kanter trade, but ultimately chose to keep Trey Burke and move Kanter in this deal. They like Trey's attitude, and note that young PGs sometimes take several seasons to develop. They also liked adding more flexibility for this year's offseason through the trade that occurred, rather than removing flexibility in the other offers presented. Ultimately, Oklahoma City's desire to add Kanter forced the match.
Breaking down the deal
So what was involved in this trade? Let's break it down, piece by piece, in order of importance.
Enes Kanter out.
Ultimately, this deal never would have occurred without Enes Kanter's impending restricted free agency. Just like with the Deron Williams trade 4 years ago, the Jazz sought the relative security of known assets over the possibility that an important player would leave without a return. As Dennis Lindsey explained today, "We concede Enes is a very significant player, and he's going to get a great contract, deservedly so, given his talent and his work ethic. But there's 20 teams potentially with $10 million or more in room, so there's some economics there, some supply and demand there."
The Jazz felt that with the great number of teams with a large amount of cap space, Enes Kanter was going to get a deal for 10 million or dollars more per season. Essentially, Lindsey concluded, "We can't pay everybody 10 million plus. We had to look at some hard, cold facts."
The Jazz have already given long-term contracts to Gordon Hayward, Derrick Favors, and even Alec Burks at that amount or more, but felt that Enes Kanter couldn't be trusted at that dollar amount, due to a confluence of his poor defensive numbers, his poor work sharing the ball[ref]Even in Quin Snyder's new passing oriented system, Kanter only had 26 assists on the season[/ref], and the inconsistent attitude of both Kanter and his agent, Max Ergul. There's a sense that Utah might be better with Kanter off the floor than on it, given his rather unimpressive plus-minus numbers during the course of his career.
And unlike with Hayward, Favors, and Burks, Utah felt comfortable turning to the rest of the roster for support. Dennis Lindsey felt both Gobert and Favors had surprised him with their growth, saying "Certainly, Rudy's exponential growth, we didn't expect that, I didn't expect that, but you've got to react to it and acknowledge it a little bit." and "I didn't expect Derrick developing the power forward skills that he has today." It was time to reward their work with the positions and roles they deserved.
Oklahoma City's 1st round pick in.
The short version: Oklahoma City will give the first-non lottery pick that comes at least 2 years after the Thunder fulfill their obligations to trade a 1st round pick to Philadelphia. If that doesn't happen by 2020, the Jazz will receive 2 2nd round picks.
The long version: In the Dion Waiters trade, Oklahoma City gave a first round pick to Cleveland that was protected for selections 1-18 in 2015, 1-15 in 2016, and 1-15 in 2017, then turns into 2 2nd round picks after that. The Cavaliers then flipped that to Denver in the Timofey Mozgov deal. The Nuggets then flipped that to Philadelphia in the JaVale McGee deal today.
Because of the horrendous ruin Cavaliers owner Ted Stepien caused when trading batches of first round picks in the 80s, there's now a rule that says teams can't trade more than consecutive 1st round picks. So the Jazz will have to wait 2 years after the Thunder give this pick to Philly in order to receive theirs. The Thunder currently have the 17th worst record in the NBA, so as of today, they would not give a pick to the Sixers, and therefore not have to give a pick to the Jazz until 2018 at the earliest. However, if the Thunder improve in the last 25 or so games[ref]With everybody healthy and Enes Kanter in the fold, it might be likely.[/ref] and get to the 19th pick, then the Jazz would receive OKC's 2017 1st round pick.
That is, unless the Thunder were in the lottery. Then, the Jazz would not acquire the pick until the next year that the Thunder made the playoffs. The Jazz feel confident enough in OKC's management that, regardless of Kevin Durant's future in OKC, the team will likely be in the playoffs between 2016-17 and by 2019-2020, before the 1st round pick would sadly fall into 2 2nds. [ref] The best-case scenario for the Jazz might be this: The Thunder improve enough to be a top-12 team this season. Kevin Durant leaves in 2016 to a Eastern Conference team, say, Washington. Westbrook and Ibaka remain under contract until 2016-17, which might make the Thunder good enough to make the playoffs but not good enough to be a top team. It's complicated.[/ref]
It's not a brilliant set of conditions, but it's a 1st round pick. The going rate for those is about $10 million in salary, even with onerous conditions.[ref]Like the one used in today's Javale McGee trade.[/ref]
Steve Novak out.
Steve Novak had had two good games in his last week in a Jazz uniform, which made this part of the deal tougher for Jazz fans. But the truth is that Novak has always been a negative asset during his time with the Jazz, as evidenced by the good 2nd round pick Toronto had to give up in order to dump his $3.5 million salary on Utah. Barely playing while Utah gave minutes to a rotating cast of D-League characters over him didn't do his trade value any favors either.
Dumping Novak in this deal, then, saves the Jazz from having to spend a 2nd round pick in order to dump him in the offseason on another team as they chase after free agents. Agents don't love negotiating with teams that only have money to spend conditional on a trade, so this might open up free agency negotiations a little bit more than had they not moved Novak today. Back of the envelope math shows that the Jazz could end up having up to $18 million to spend in this year's free agency, with a Booker waive, maybe allowing them the upper hand in free agency negotiations. We'll see.
Detroit's 2017 2nd round pick in.
This one's actually simple! The Jazz get Detroit's 2017 2nd round pick. This gives the Jazz 4 second round picks in that draft[ref]New York's from Novak trade, Golden State's from the RJ trade, Detroit's from this trade, and their own.[/ref] and up to 3 first round picks[ref]GSW's 2017 unprotected from the RJ trade, OKC's from this trade (maybe), and their own.[/ref]. Maybe we'll see 7 picks traded for the #1?
Again, Dennis Lindsey explained: ""You pooh-pooh 2nd round picks until you hit on one… Those are great chips to go to the poker table and make swaps with as well."
Tibor Pleiss in.
Tibor Pleiss is a 7'2" German big man who currently plays for FC Barcelona, backing up fellow Jazz prospect Ante Tomic[ref]By the way, I really don't think Tomic's ever coming to the NBA.[/ref], ironically enough. Dennis Lindsey has watched infinitely more film on Pleiss than I have, so I'll let him give the scouting report: "He's a large man, and he's getting bigger, more developed. He still has some more strength and power work to do, especially as it relates to our league. He's big, he has very good touch, good FT shooter. He scored big with his club last year, where he was a starter, then he moved over to Barcelona where he's Ante Tomic's backup. He's mobile for a guy that size." In other words, he is large.
But when asked if he could be a defensive player, Lindsey answered, "I'd say he's more of an offensive player. But certainly when you're 7'2", by definition you're a defensive presence." While Pleiss may be literally present on the floor, we've certainly learned with a number of NBA big men that size does not always equal defensive effectiveness.
Oklahoma City tried to bring Pleiss over to the NBA this season, but the buyout amount on his contract with his former team, Laboral Vitoria, was apparently prohibitive. That being said, FC Barcelona was able to conduct the buyout for a reported $650,000, just over the $600,000 allowed without paying the remaining amount on the cap. Still, when that "penalty" was combined with Pleiss' contract demands as the Thunder's approached the luxury tax line, they ultimately decided against it. The two planned to reopen negotiations for his NBA move this upcoming summer.
Now, though, that's up in the air, and will probably be determined after the Jazz make initial moves this offseason. Favors and Gobert are sure to remain on the team, but will Booker? Will the Jazz draft a big man in this year's studded class, or will they give money to a free agent big? All of these questions determine whether or not there's space for Pleiss to join the roster.
Grant Jerrett in.
Grant Jerrett was the 40th pick in the 2013 NBA Draft by the Thunder. Lindsey wrapped him up by saying, "He's 21, he's 6'10', he's mobile, he's shooting 38% from 3 in the D-League, and we like shooting bigs and the spacing that provides." In other words, this is another Malcolm Thomas/Erik Murphy play for the Jazz, and while those guys didn't work out, they also never had a chance to play under Quin Snyder. Jerrett should make the Jazz's NBA roster immediately, as without him, they only have 12 players on the roster. More info on Jerrett's profile entering the draft is available on DraftExpress.
Kendrick Perkins will be waived. He's in this deal to make the salaries work.
This summer
So, what do the Jazz do this summer, now with some additional flexibility after this deal? They could do nothing, make a pick, and forward cap space onto the summer of 2016, but given the rising salary cap, that seems like a bad idea: literally every team will have salary cap space that summer.
They could also chase one of the bigger free agents. The free agent market has a lot of role players who might fit nicely in Utah's new system: Paul Millsap, Danny Green, Wesley Matthews, and Khris Middleton are all conceivable targets. Would a good player come to Utah? Dennis Lindsey thinks maybe: "If I'm a veteran, I can start to see the pieces, not only be significant, but starting fitting together."
But perhaps the most intriguing possibility raised by Lindsey today was this one: "We can be a serious player during the draft to take in a veteran to speed up our timeline." The Jazz could offer their own likely top 10 pick, and/or other future assets, to entirely absorb a big-money player for a team that wanted a fresh start.[ref]Some possibilities here, completely made up just by looking at long-term salaries around the league: Kemba Walker, Chandler Parsons, Mike Conley, Chris Bosh, Nikola Pekovic, Jrue Holiday, Carmelo Anthony, Nikola Vucevic, Eric Bledsoe, Nicolas Batum, Rudy Gay, DeMarcus Cousins, Tony Parker, Kyle Lowry, Marcin Gortat.[/ref] By doing this, the Jazz might acquire a better player than going through the traditional draft and free agency route.
All in all, though, it was a momentous deal. While none of the individual pieces is the tremendously valuable type that you'd hope in return for the former 3rd pick, having a multitude of assets gives the Jazz flexibility to make a big move, possibly this summer, to take the leap as a contending team. It may seem like the assets returned today only further push Utah's contention timeline down the road, but in reality, it may give them freedom to make the moves needed to win as soon as next season. In the end, with Kanter's return uncertain at best, the Jazz received significant assets with which to play.