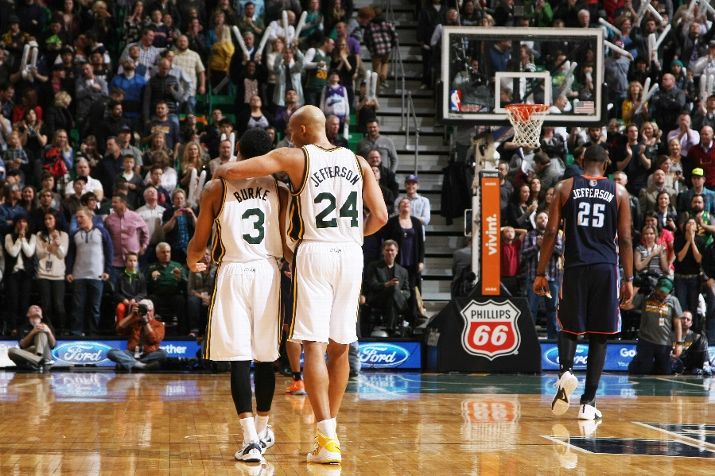 It sounds obvious: if you can get both sides to win in a negotiation, it's much easier to get a deal done.
That was the basis of one of the ten tenets of negotiation in a panel entitled "The Science of a Deal" at this year's Sloan Sports Analytics Conference, presented by Deepak Malhotra (professor at the Harvard Business School and author of "Negotiation Genius"). Shouldn't the 30 NBA general managers be experts at this? After all, they're shepherding some of the world's most high-profile negotiations.
But, if Rockets GM Daryl Morey and Warriors GM Bob Myers are to be believed, most teams don't negotiate that way. Instead, they assert that most GMs are looking for such a bargain that they'll consistently and dramatically offer far less than a player is worth. Worse, some GMs will try the used-car salesman approach, and explain to a team's GM what the needs of his own team are! It's a tactic that, in the estimation of Morey and Myers, has never worked.
In Friday's panel, Myers took the audience through one deal in particular that featured a multitude of moving parts: the Warriors acquisition of Andre Iguodala. The deal was so complicated and difficult that co-panelist Morey thought that there was "no way" that it could get done. But somehow, everything came together.
It all began when Warriors owner Joe Lacob wanted more success after Golden State's run into the second round last season. He wanted to take the next step, and to the notoriously forceful Lacob, that meant acquiring another big-name player in free agency. The Warriors approached Dwight Howard, even meeting with him and his team in person, but Howard decided to go elsewhere.
Andre Iguodala, though, was more amenable. Iguodala liked what the Warriors were building, and could see himself as a long-term resident of the Bay Area. He instructed his agent, Rob Pelinka, to pursue the Golden State possibility.
The problem, though, is that the Warriors didn't have any money under the salary cap. In fact, they were nearly $12 million over the cap, burdened by the expensive (but expiring) contracts of Richard Jefferson and Andris Biedrins. Despite this, Myers went into negotiations with Pelinka anyway, trying to find a salary that both Iguodala and the team could agree to. Interestingly, absent in this negotiation was what the Warriors could afford to pay, after all, they could pay nothing. Instead, it was a multi-day discussion of Iguodala's hypothetical worth to the Warriors.
Eventually, and because both sides wanted Iguodala in Golden State, the sides agreed to a deal, a 4 year, $48 million contract. If the impossible somehow were to occur, if miracles were to happen, Golden State would need to move $24 million dollars off their cap immediately: $12 million to get down to the cap level, and another $12 million to fit Iguodala's contract into.
Myers, the attempted superhero achieving the physically impossible, went around the league. He called (or text messaged) each team's GM: was there anybody willing to take on $24 million? Naturally, not many teams were: $24 million represents nearly half of a team's salary cap. The team would have to be in a unique position to be even able to take on that much salary, especially in the forms of Andris Biedrins and Richard Jefferson, two players who gave the Warriors very little on the court.
Worse, the teams that were able to make a move became suspicious of Golden State's intentions: were they doing this because they knew they could sign Dwight Howard? Myers pleaded innocent, promising that his team merely wanted Iguodala, but it was of little use. Teams demanded 4, even 5 1st round draft picks as compensation for the salary. GMs, again, thought they could fleece Myers in his time of desperation. It wouldn't work.
But Myers was desperate. The Warriors' brain trust had now mentally pictured Iguodala on their team, and correctly saw him as a perfect fit. Myers couldn't sleep, the deal yet to be done floating in his head. Pelinka, with limited time for his free agent to work on the open market, set a deadline for noon the following day. If Myers couldn't solve his cap problems by then, the deal was off.
Myers again scoured the league, calling the teams that had even shown vague interest at the time of his initial call. Utah had been one of those teams, but wasn't seriously interested without more incentive. But on the morning before the deadline, Myers played his last card: adding the maximum $3.2 million in cash allowed by the CBA.
Surprisingly, the new extra bait worked: Utah had just sent $3.1 million dollars to Denver for the rights to Rudy Gobert, the #27 pick, and was eager to get its money back. Getting the maximum amount in cash was like adding another late 1st round pick, and meant something substantial to the Jazz: essentially, they felt confident that $3.2 million could be put to use effectively in a similar trade in the future. Beyond that, the Warriors offered two 1st round picks, two 2nd round picks, all in exchange for the bloated salaries of Richard Jefferson, Andris Biedrins, and (to a lesser extent) Brandon Rush.
It made sense for the Jazz to take on the salaries in a year in which they weren't going to compete, and get additional assets for the future. The Jazz also negotiated the picks to work out most favorably for them. For example, the "Stepien Rule" prevents teams from trading consecutive 1st round picks. That means that if the Jazz were going to get a 2014 pick (which they wanted), the next first round pick couldn't be traded until 2016. But the Jazz know, as does the rest of the league, that the 2017 draft class is highly-rated. Yes, they're 9th graders, but at this moment in time, it looks like a particularly skilled class of 9th graders. Utah, therefore, asked Golden State to send its 2017 pick rather than its 2016 one. It may require more patience, but could be well worth it in the end. All of the draft picks Utah acquired in the deal are unprotected, meaning that there's significant upside for Utah should Golden State encounter turbulence.
It seemed like a good solution for both sides: the Warriors would get Andre Iguodala, adding the defensive wing presence they wanted, and the Jazz would get significant long-term assets. But then, Myers applied the tenth and final of Malhotra's negotiating tenets: "Never end a negotiation with a 'Yes'". Simply put, just because a deal is done, doesn't mean that it can't be improved upon.
In this case, with the Warriors having signed Iguodala, Denver faced the prospect of losing one of its best players for nothing. Rather than that, Denver chose to become involved in the deal to at least get a Traded Player Exception it could use later. The Nuggets also happened to be wrapping up negotiations with a former Jazz player, Randy Foye. In return, the Jazz would receive an additional second rounder. For Golden State's part, structuring the deal as a sign-and-trade would allow them to structure Iguodala's contract so that it declined in its final year, saving them money down the road. The pieces all fit: the complicated salary dump became a three-team trade, in which the Warriors received Iguodala, the Nuggets received Foye, and the Jazz acquired all of the expiring salary and 5 picks.
Both Morey and Myers consider the trade as a win for all sides. Sure, the Nuggets lost the best player, but he was gone anyway. At least the Nuggets got something to use in the future. For the Jazz, they began their rebuilding process in earnest, with 5 additional draft picks to put towards the process of becoming a contender. As Morey put it Friday, "it turned out to be a very good deal for Utah, especially when you look at [what happened at] the trade deadline."
For the Warriors? They acquired one of the most important two-way players in the league, one that's been absolutely critical to their success this season.
And it wouldn't have come together but for the winning negotiation tactics of everyone involved. Congrats, GMs, you've passed Negotiations 101.