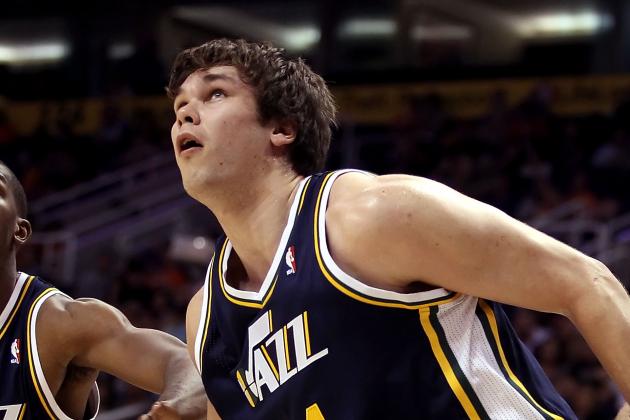 Kyrylo Fesenko, who played for the Jazz from 2007-2011, was a fan favorite during his time with the team because of his play on the floor, but especially his personality off the floor. If you're unfamiliar with Fesenko's time with the Jazz, or just want to reminisce a little bit, check out this video created by Moni from Jazz Fanatical. He's playing with the Minnesota Timberwolves in this year's Las Vegas Summer League, and after Minnesota's last summer league game, I caught up with the former Jazz center for a few minutes.
Have Jazz fans kept up with you since leaving Utah?
Even since I haven't been on the team, on the roster of the Jazz, I still get a bunch of messages, I'm following some fan websites, SLCDunk, and I really appreciate all the support. Just today I was so shocked. A fan asked me to sign the shirt, and it said: 44, Jazz, Fesenko. And the fact is they never made those, so if he wants it, he has to custom make it, and it cost him like 100 bucks, and he still has it. That support is amazing.
So tell me, what have you been up to since the Jazz days?
I played in Ukraine one season, and then one season I tried to get back in the league. I was in the D-League, with the 87ers and the Canton Charge. I'm finally healthy, I'm finally trying to get back in the league at the highest level possible. I get married, only months ago!
Congrats!
I'm happily married, not forced married! Yeah. And, yup. I get married. A lot of stuff happened. I changed my mind. So pretty much I'm still a positive guy, but not a happy-go-lucky guy that I was.
Are you still making jokes?
I still can make a joke, but now I know when is an appropriate time to make a joke and when to shut up.
So you're not dyeing your hair blonde anymore then?
Oh, no no no no no no. That was probably the biggest mistake of my life.
Do you have a favorite moment of your career so far?
Yes. My first game against the Lakers.[ref]That would be this game, one of my favorite Jazz games in the last decade. With both Carlos Boozer and Mehmet Okur out due to injury, the Jazz started Paul Millsap and Jarron Collins. Andrei Kirilenko put up a vintage performance with 20 points, 11 rebounds, 11 assists, 6 steals and 4 blocks. Deron Williams scored 35. Millsap went for 20/9 in his second career start. And Fesenko himself scored 6 point and garnered 7 rebounds in his first NBA experience. The Jazz beat the Lakers by 24 at home.[/ref] My debut game my rookie year, it was the most amazing moment, biggest moment of my life. I think the only thing that can top it right now if I get back into the league. Because that will pretty much mean that I made it into the league twice. I was far away, out there. And probably the only thing that could top that is the birth of my first child, that I'm thinking about by the way.
Hopefully your wife knows about that![ref]Seriously, I don't want to be breaking this sort of news on Salt City Hoops.[/ref]
Yeah, yeah, she knows about it.
You had a good game tonight, especially in the 1st half.[ref]Fes finished with a team-high 13 points on 5-5 shooting, with 7 rebounds, 1 assist, 1 block in his 15 minutes of play.[/ref]
I did better than I did the previous two games, but I still don't think I had a good game.
What more do you need to do?
Me personally, I need to work on my weight, my conditioning, defense, blocked shots, movement, a lot of stuff that I have to improve. I have a long way to go, but I'm finally willing to make it and finally know what to do.
Is that just because of your injury that you're kind of behind a little bit?
Injury, and my mind wasn't there when I was younger, I know my mistakes. I was pretty much just typical. A typical NBA player.
Do you plan on sticking with Minnesota after this?
We'll see. Minnesota is obviously looking into me, but there's 30 teams out there, 29 besides Minnesota. Maybe the Jazz need me. Maybe the Jazz fans, maybe all the fans can chip in and sign me.
Get every Jazz fan to chip in 10 bucks?
Yeah. That sounds great.