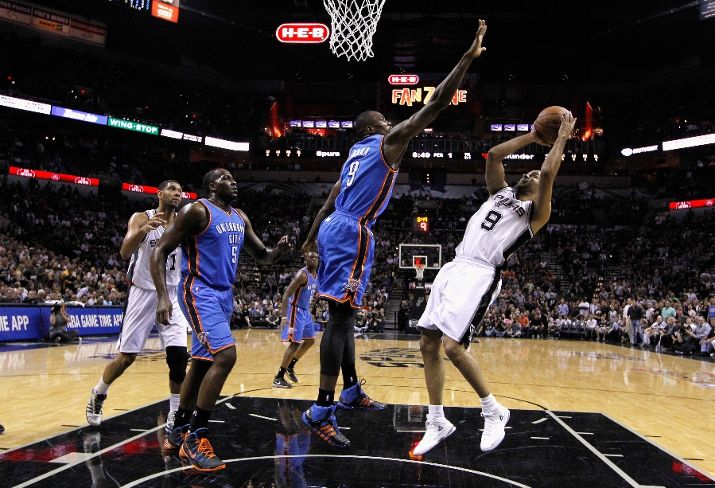 Goaltending is awesome.
Basketball players have an unfortunate choice: they can sky above the rim and forcefully reject a shot in a direction of their choosing, or they can meekly hope a shot misses so they may gather the rebound. The former is a remarkable feat limited to only the most athletic and genetically gifted of humans, an artistic feat of animal expression. The latter is a game delay while gravity takes its course. Unfortunately, the rules have chosen to punish goaltending.[ref]Yes, I realize this keeps basketball functioning. Just go with it.[/ref] Lame.
But which players are the most likely to break the goaltending rules? To find out, I used a play-by-play database of the 2013-14 NBA season, acquired using APBRForums' user kpascual's NBAscrape Python tool.[ref]You can also buy the database at NBAstuffer.com, but it's honestly kind of expensive. It may be easier then messing around with Python and MySQL if you're not technologically inclined, though.[/ref] Essentially, this tool goes to the play-by-play section of every NBA game on NBA.com, and saves the contents to a database to use for whatever kind of basketball analysis you want, including a lot of stuff that wouldn't be available in the box score. Today, we're looking at goaltends, because they're awesome.[ref]Okay, and also because Amin Elhassan asked about them on Twitter.[/ref]
In the 2013-14 NBA season, 758 offensive and defensive goaltends took place, or an average of 0.616 goaltends per NBA game. Below is the list of all of the NBA players with more than 10.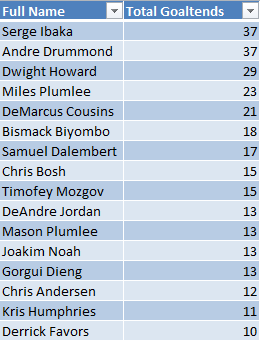 We have a tie! Serge Ibaka and Andre Drummond are co-champions of the goaltend, going above and slightly-too-far beyond to protect their team's rim. While they were often caught, both players had big moments last season during missed goaltending calls. Ibaka had several high-profile goaltends-turned-blocks in the NBA Playoffs (including this one), while Drummond somehow escaped being punished for this:
Both Plumlee brothers finish amongst the top group, and Jazzman Derrick Favors barely makes the list. What about offensive goaltending alone?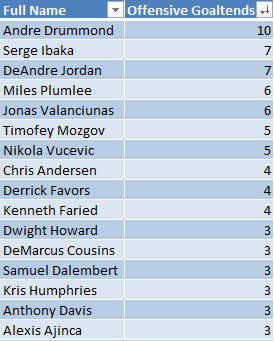 Drummond and Ibaka again top this list, showing that goaltending violations are probably reflective of eagerness, rather than an innate desire to protect the rim. Here's the list of defensive goaltending leaders: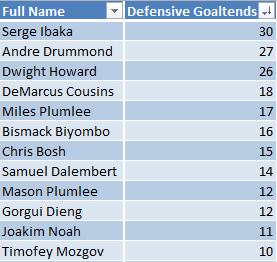 At the top: Ibaka and Drummond, but Dwight Howard also goaltends on D quite frequently too. Since this is a Utah Jazz site, I'll include all of the Utah Jazz's goaltends last season:

Sadly, the Jazz didn't go for the style points while losing, goaltending just 23 times last season, an average of only .28 goaltends per game.
If you'd like to look up your favorite team or player's goaltending data, don't fret. The whole 2013-14 season of goaltending data is available for download here on Salt City Hoops.