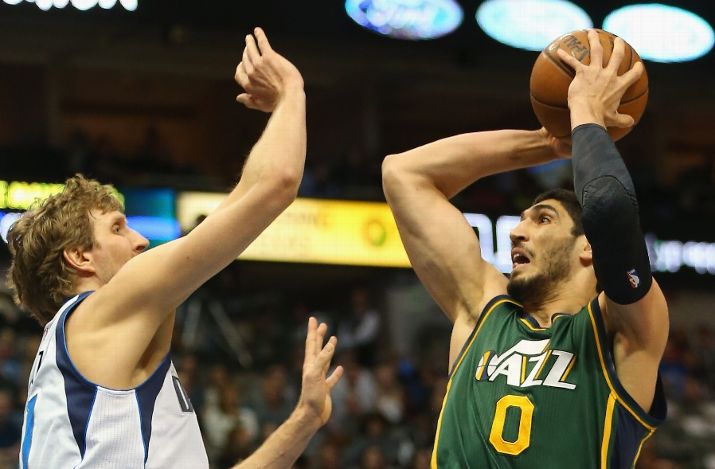 According to the Salt Lake Tribune, Enes Kanter has told reporters that he hopes to be traded before this year's trade deadline. Jody Genessy of the Deseret News confirmed. Kanter played just over 18 minutes tonight in the Jazz's 5 point loss against Dallas, but didn't play beyond the 6:20 mark of the 3rd quarter.
Later, Jody Genessy reported more about Enes' trade wishes:
Enes Kanter's agent Max Ergul has been asking for a trade for years and has turned up the heat on Jazz management lately, per sources.

— Jody Genessy (@DJJazzyJody) February 12, 2015
Interest in Kanter could increase by the Feb. 19 trade deadline, but it's been scarce since his agent started asking for trades years ago. — Jody Genessy (@DJJazzyJody) February 12, 2015
Enes Kanter's agent, Max Ergul, disputed my report and denied that he's been asking for a trade for years.

— Jody Genessy (@DJJazzyJody) February 12, 2015
From my own eyes, I can report that Enes was definitely frustrated under Ty Corbin's regime, especially because he didn't start a majority of games, even as the Jazz had limited big man options.[ref]Remember, Marvin Williams started a majority of games last year for Utah.[/ref] This year, Kanter has started all but one of his games, but has played essentially the same number of minutes, due to the emergence of Rudy Gobert and solid play of Trevor Booker. As a result, Kanter started the year very upbeat, but has been frustrated at times with the minutes he has received, or media criticism that he perceives as unfair. His agent, Max Ergul, has also been upset with the above: after all, a decrease in Enes' valuation throughout the league is a decrease in his paycheck, too.
Meanwhile, until now, the Jazz front office had felt that his potential was worth more than the limited interest they had received in Kanter from other teams. Before the 2013-14 season, they wanted to see what he could bring in more than a 4th big role. In Ty Corbin's final year, he played 27 minutes per game, but finished the season as the 3rd-worst defensive center in the league (out of 67), according to ESPN's Real Plus-Minus stat. Then, with the Jazz having replaced Ty Corbin with Quin Snyder, the team wanted to see what the talented player development coach could do with Kanter's skills. While Kanter's effort (and offense), has improved, ESPN's DRPM now ranks him as the very worst defensive center in the league (out of 75). In the defensive system that the Jazz are trying to build, Enes Kanter just doesn't fit.
While the Jazz still feel, even now, that Kanter could develop into a plus player overall, this trade deadline was and is a natural time to explore trade possibilities, given his restricted free agency in the upcoming summer of 2015.  Before tonight, the Jazz were very much open to the possibility of testing Kanter's restricted free agency: if an offer sheet signed were to be relatively low, the Jazz would retain Kanter as a promising 3rd big behind Favors and Gobert. If an offer sheet were too high[ref]Over half of the league either has or can create maximum cap space for making an offer for this summer's free agents, and Kanter, as a young, offensively productive center with room to grow, may make sense for those teams that miss out on the top tier of free agents.[/ref], the Jazz would simply let Kanter walk, and use the cap space gained to sign a replacement.
Now, though, that patience approach becomes difficult: Utah simply believes too much in the importance of a winning culture to keep Kanter on the team in the short term. Remember, the Jazz are a franchise that, 20 years ago, was the model for Gregg Popovich and company when building the Spurs. Now, with Spurs' transplants Dennis Lindsey and Quin Snyder running the show, the Jazz insist on building a similar culture by having a core group that stays true to a set of shared principles. By making his wishes known to the Utah media, Kanter's shown far too publicly that he's not on board. He just can't stay for Utah's final 29 games.
---
So given that, in my opinion, he will be traded, what are the Jazz looking for? The first cutoff when evaluating potential targets is whether a player has "Jazz fiber", a phrase Lindsey has used often to describe the type of personality that can fit into the Jazz's system. No Lance Stephensons or J.R. Smiths here; the Jazz don't want to replace one headache with another.
The second test is whether the trade would forgo the Jazz's rebuild from taking place. With Hayward, Favors, Burks, Exum, and Hood all having deals that likely will extend through 2017-18, the Jazz would be reluctant to take on a big deal that extends beyond next season because doing so would significantly limit their flexibility to add pieces to take the team from good to great 2 to 3 years down the road.[ref]Just to use an example: Marcin Gortat wouldn't be coming back in a Kanter trade. Even though talentwise it would be a good deal, the Jazz would be hamstringing themselves with Gortat's 4 years remaining after this one.[/ref] Likewise, they may also be opposed to take on a restricted free agent as the main component of the deal, given an impending long-term commitment.[ref]Another example: if the Jazz were to swap Enes Kanter for Reggie Jackson, the Jazz would almost feel obligated to use their rights to match any offer for Jackson, even if it's a high one. As a result, the core moving forward would be Jackson/Burks/Hayward/Favors/Gobert, with little flexibility. That core probably doesn't work as a contending team, with only Hayward being an above-average shooter.[/ref]
The positional demands of the roster are complicated: Kanter's departure would open up significant 3rd big man minutes. For the time being, Trevor Booker would suffice to fill the majority of those, but long-term, he's probably not quite good enough for the Jazz's aspirations. While this year's draft is loaded with big men, recent draft history shows that those big men take a long time to develop, and probably wouldn't be ready for a 2015-16 Jazz team making a playoff push. A move that looked towards next season as the Jazz's time to take a leap would have to figure out some sort of plan for a big man, whether that be acquired in the trade itself or, at least, not disqualifying them from using their cap space on one this summer.
That being said, Utah's current weakness is at the PG and SG positions. The Jazz hope and expect that one of Dante Exum or Trey Burke will develop into a starting-caliber point guard, and likewise hope that a SG rotation of a healthy Alec Burks and Rodney Hood will be at least league average. But there are no guarantees on this, and the Jazz could consider adding a young player here to increase their chances of getting one or two of them to pan out.
On the court, shooting, energy, and toughness are three areas in which the Jazz see themselves as needing improvement. Utah's lack of shooting is the single largest weakness in the Jazz's offense. The Jazz currently are 20th in the league or worse in every shot distance beyond the restricted area, a fact that significantly impedes Snyder's system built on passing[ref]As a side note, Kanter's essentially a non-passer, averaging just over half an assist per game. Giving his minutes to nearly anyone else should, at least, improve the offense's fluidity, if not its end product.[/ref] and spacing. The Jazz would be excited to see what a quality shooter could add to the overall effectiveness of the Hayward/Favors/Gobert core. Likewise, the Jazz feel that another defender with energy and toughness could bring synergistic benefits for a team that's ranked 25th in the league thus far at forcing turnovers. Right now, the Jazz have a lot of players that can either shoot[ref]Steve Novak, Ian Clark[/ref] or defend with energy [ref]Elijah Millsap, Dante Exum, Rudy Gobert, even Jeremy Evans[/ref], but very few who can do both. Utah should be looking to acquire someone who either has both skills, or could potentially develop into someone who does.
Are the Jazz going to get everything they want? Probably not: it's difficult to imagine a team wanting to trade its problem-free, tough, energetic, young, cheap shooter for anything at all, let alone Enes Kanter. But the Jazz are considering all of the above when making a trade, and they're hoping to hit at least a couple of the check boxes.
For what it's worth: Kanter does still have some value around the league. I'm told multiple teams have at least inquired about the big man before tonight's events, and I suspect even more bargain-hunting teams will have called since. While such a public declaration on Kanter's behalf hurts the Jazz's leverage, in that keeping him in restricted free agency is no longer really a viable option, it does at least bring Kanter to the top of team's radar screens for a short time.
As for specific trade ideas, we talked about 6 of them on this week's Salt City Hoops Show[ref]This link is to the ~15 minute segment only in which we talk about these trade ideas.[/ref]. Since then, I've been sent many more on Twitter that we'll be either writing about or talking about on a later date. If this RealGM thread is any guide, fans from teams around the league are interested and will trade items of value to receive Kanter's services. We'll see if real NBA front offices agree.
Still, it promises to be an intrigue-filled week for Jazz fans; we're now just 7 days away from the NBA's trade deadline. Much more on this topic coming up on Salt City Hoops in the week to come.